We're Welcoming Visitors Back and Marching in Brooklyn Pride!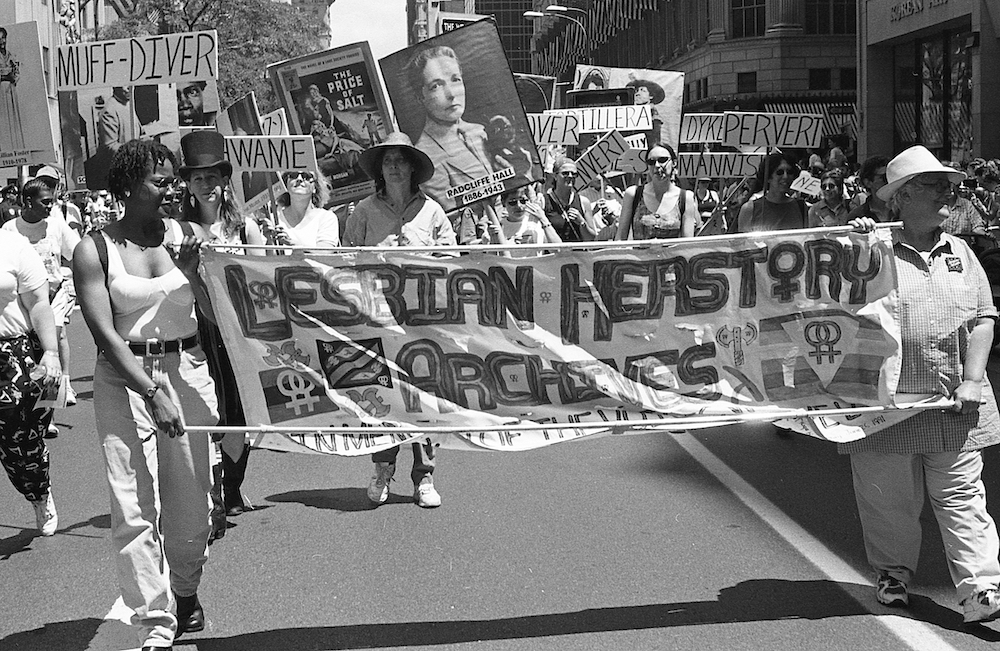 We are very excited to announce that beginning in June we are welcoming visitors back to the Archives for casual browsing!
Please visit the calendar on our website to see the available dates and times, and book your appointment here (additional instructions at the bottom of this post): https://www.picktime.com/LesbianHerstoryArchives
As we are still concerned about COVID, we want to make sure we carefully protect the health and safety of all. We will be limiting the number of people in the building at any given time and have therefore set up the following guidelines:
We ask that you sign up for an appointment to visit and not just drop in.
If you are bringing a guest, each person needs to sign up separately.
Please be prepared to show either your vaccination card or the results of a negative COVID test taken within 24 hours of entering the building.
You will be expected to wear a mask throughout your visit.
If you receive a positive COVID test up to 5 days after your visit, please email us to let us know for the purpose of contact tracing.
If you would like to do research, please email us at info@lesbianherstoryarchives.org with your area of research interest and your contact information. We will get back to you about possible appointment times or other resources.
We are sorry but we will not be setting up group tours at this time. Thank you for your understanding and cooperation with our guidelines. We are delighted to be welcoming you back!
March with us at Brooklyn Pride!
The Brooklyn Pride Parade will be taking place on June 11th in Park Slope. It is an evening parade, starting at 7:30. The Archives will be marching, please come join us! We are lining up between 7:00-7:30pm at 147 5th Avenue, Brooklyn. The Parade will then continue toward 9th street along 5th Avenue. Join us there or join in as we parade along 5th.
As We Prepare to Reopen…
At this historical moment, we feel it is important to state there is no room for hatred or bigotry at the Archives. We have always had, and continue to have, an expansive and inclusive understanding of Lesbian. We have worked to preserve for the future the complexity of who we were and who we are. We honor and stand on our history that has always included, and continues to include, butches, cross dressers, passing women, and those who are trans, two spirited, same-gender-loving, as well as others, all of whom at times were, and still can be, made to feel unwelcome in the world by others, sometimes even by other Lesbians.
It is critically important to us that all—in the most diverse and expansive understanding of the complexity of who we are—feel accepted and welcomed at the Archives not disrespected or excluded. All have been and remain an important part of our community history, contributing to the building of our world.
This has been the Lesbian Herstory Archives position since its inception and continues to be our position.
In Friendship
The Archivettes
—–
How to Use Our Online Booking Form
A welcome message will appear in a small window laying out our guidelines. You can click the "X" in the upper right corner to close that window.
Click "LHA Open Hours" and then a list of available dates and times will appear.
Click the date and time you wish to come for a visit.
Enter your name, email address, phone number, and address, the click "Book Appointment"
You will receive an email confirmation.
If you cannot attend, please cancel your appointment to free up the slot for someone else.
---