Sinister Wisdom 118 Launch: An LHA Tribute to Forty-Five Years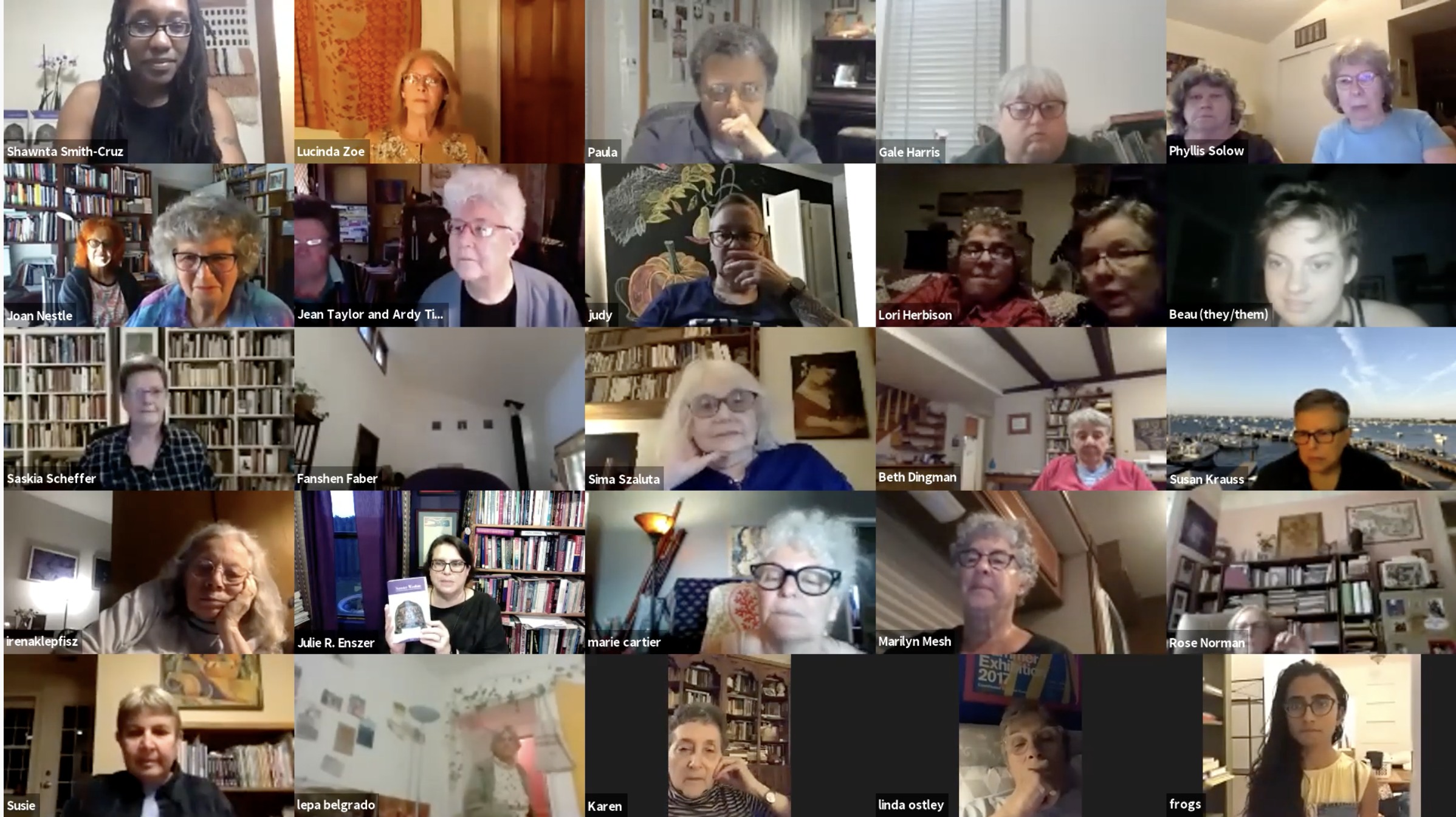 On October 15th, 2020, the Lesbian Herstory Archives co-sponsored an event to celebrate the 45th anniversary of our founding and the launch of a special issue of Sinister Wisdom: A Multicultural Lesbian Literary & Art Journal, celebrating LHA's forty-five years. The event drew 344 attendees (and 600 RSVPs) to hear a few of the issue's contributors read from their work. Sinister Wisdom, NYU Division of Libraries, and CLAGS: The Center for LGBTQ Studies also co-sponsored. The event was coordinated by LHA co-coordinators Saskia Scheffer, Flavia Rando, and Shawn(ta) Smith-Cruz, with much support from Joan Nestle and Morgan Gwenwald, and Elvis Bakaitis, coeditor.
Below is a recap of the readers and the launch. We hope you will enjoy.
An Ancestral Welcome
Before an archival image of blurred faces (that could not be denied as queer women of color) hand-clasped, heads bowed, and in prayer, inside a black box theater set the tone for the land acknowledgement and before co-coordinator, Paula Grant read through the list of names for coordinators who are now ancestors for which the issue was dedicated:
Vicki Sherman
Arisa Reed 1957–1986
Rota Silverstrini 1941–1987
Mabel Hampton 1902–1989
Julia Penelope Stanley 1941–2013
Georgia Brooks 1943–2013
And before we were welcomed by Julie Enszer's introduction to the issue of this herstoric journal, Sinister Wisdom: A Multicultural Lesbian Literary & Art Journal, where Julie greeted us from a zoom confusion of mass entry, and finally, before the opening remarks where co-sponsors from NYU Libraries and CLAGS: The Center for LGBTQ Studies were given their moments of description, and as the zoom room of 267 lesbians, which grew soon to 344 (with apparently a long wait at the door for those struggling to enter), we were gifted a slideshow of photographs from photographer and co-coordinator, Morgan Gwenwald. The black and white images pulled the viewers into a timeless past that held lesbians behind banners, seated around tables, in embraces, cataloguing books, shouting, and laughing, and together, in community. This was how we began the launch to Sinister Wisdom 118: Forty-Five Years: A Tribute to the Lesbian Herstory Archives.
Tribute Readings
A slide deck which led to a visual experience that showed each speaker's chosen images up against their open zoom boxes, a neighboring accompaniment to their testimonial readings.
Joan Nestle was our first reader. She zoomed in from an Australian morning, her partner by her side, and read to us her notes for this special issue, followed by her oral rendering of both Ann Allen Shockley and Naomi Replansky's work of memory and salutations. Both Ann and Naomi were asked whether the readings were okay to offer, and what a wonderful way to open the space. Joan's voice, Ann and Naomi's words.
Deborah Edel, our co-founder and longstanding co-coordinator read, "How the Archives got its Name," which opens with a first line: "Memory is a strange thing." Deb's piece continues to articulate how nomenclature is a community's prerogative, and that to the surprise of many, the word Herstory was contested, while the word Lesbian, well, "there was no disagreement."
Little Rainbows was next, a contrast of founding mothers to start, and little ones as a next feature. Ellen Baxt, one of the collective member of this program for babies and children, read quotes from her piece, "Bringing the Newest Generations into the Archives," and showcased images that you could see and hear, little feet pattering against the wood floors. Large bright eyes, staring into storytime mamas, blankets creating forts beside the fiction/biography book shelves.
Linda McKinney and Saskia Scheffer, coordinators past and present and long-time friends were in conversation. You see, Saskia was one of the photo editors for the collection, and Linda, her jacket graced the photo. Their conversation recalled Linda's memories of the jacket and her time at the Archives, including her very first point of entry, which was a greeting by then coordinator, Irare Sabasu (also a contributor to this issue). It was so cute (not cute, amazing!) that we had to have a stretch break!
Elana Dykewomon came next and reminded us of the time. Her piece, "It's all Herstory Now" was a retrospective of her life, returning to NYC, and embarking on an encounter at LHA when it was still in Joan's apartment. She reminded us this organization "believed that lesbians were worth time and space, were worth love, were worth a library.
Lucinda Zoe read to us from "Sleeping with Joan (A Multigenerational Collection Development Memoir Tale)," where she unveiled the many women for whom she caretakes, even after their passing, and how arriving at the doorstep of LHA was not disconnected from the "funerals, wakes, memories/eulogies, photos, memoirs/… Ashes Ashes Ashes[.]"
Stefani Echeverría-Fenn led us to her embraced ode that, "The fire cannot consume us. We take it and make it our own" and how the Archive's "dust smells" may interrupt a quick fuck at an at-home but will always mark our memories, reprieve us from the fire of our lives, and at times, ignite it. Stefani's piece was also an ode to Flavia Rando, who invited her to the space, marking a new passage forward.
MP ended the readers with her poem that found itself in the walls of the building, within her own body, and as an homage to a homecoming. "…we exIst, our bodies are ours, we are/Dykes, and we sit. We sit here, too.
An End with Dancing
Before the zoom recording ended, and we danced to Leaping Lesbians, before we heard the voices of the audience in a Q&A session of appreciation, and even before Julie led us in a closing song of L-Word, written by Carol Kraemer, performed by Yer Girlfriend, where spotlighted screens caught hands waving in the air in an unending celebration, we had final words. Somewhere toward the end, Joan reminded us that when LHA began, we were told that we couldn't do it. Paula followed Joan to give the last word, echoing Elana's reading, that "if we have to do it again, we'll do it again. If that is what the future holds."
Happy 45 years LHA.
---
Written by co-coordinator, Shawn(ta) Smith-Cruz
---